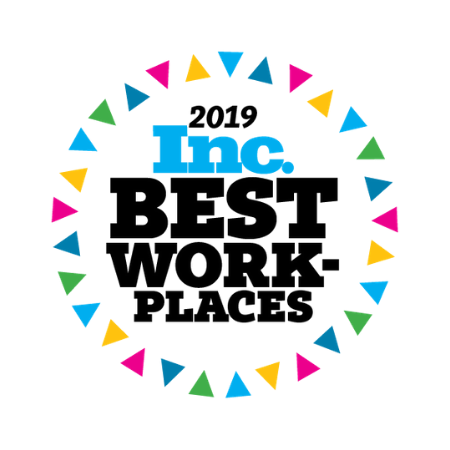 This month, lotus823 was honored to have been recognized as one of Inc. magazine's Best Workplaces for 2019. Although there were over 2,000 company submissions, it was no surprise for the employees of lotus823 to hear that their company was among Inc. magazine's list of 346 finalists. With company culture at the forefront of all endeavors, there are countless explanations as to why our team is happy to come into work each and every day.
As emphasized by Allison Hernandez, Co-Founder and Managing Partner of lotus823, "We attribute our success to our people – and their passion for the business, the industry and for each other. Trusting and empowering each team member to make decisions and be part of the company's vision leads to happy employees – and in turn, happy clients."
lotus823 believes setting up its employees for success through the environment and relationships that are curated in the office serves as a catalyst for the success of many of our clients.
While of course, providing excellent service to each of our clients is among our top priorities, lotus823 is a company that prides itself on its unique company culture that offers a wide variety of perks to our hardworking team. From unlimited PTO, to flexible hours in our pet-friendly office, we look to our team to hear why they believe lotus823 to be a best workplace!
According to Alyssa Morrello, Senior Account Executive, "Unlimited paid time off is great for obvious reasons – more time to travel, relax, or take a mental health day when needed! What I feel is even cooler is that through offering unlimited time off, it is instilled in our team to work hard and do our jobs as best as possible without being nervous or stressed about counting accrued PTO or taking too many sick days in the process. I am glad to work at a company where my personal life and wellbeing is just as valued as my work while in the office at lotus823."
Katie Crocilla, Assistant Account Executive, says, "From casual happy hours to movie nights and hatchet throwing, my favorite part of working at lotus823 is the fun our team has together outside of the office. Each one of us can be found constantly laughing while we're enjoying time outside of the office, strengthening our bond as a team." 
Beth Gard, Director of Public Relations and Client Services, also shares, "One of my favorite aspects of being part of lotus823 is the ability to bring my dog, Maisey, with me to work. When I first adopted her, she was extremely timid and I was worried about leaving her home. However, the leadership at lotus823 immediately encouraged me to bring her to the office, which set my mind at ease. They bought her presents and made me feel secure in my decision. She has now become so much more sociable and feels comfortable with the whole team, considering them all to be her adopted family. This flexibility is unlike anything I have ever seen at other organizations. Putting its employees first through actions like this is what makes lotus823 a Best Workplace."
We hope you enjoyed reading about our favorite parts of working for lotus823 as much as we enjoyed sharing them!